Critique de variété: Northern Lights
Publié le : Jun 16, 2014
Catégories : Blog • Critiques de variétés

Tous les fumeurs ont entendu parler de la variété légendaire connue sous le nom de Northern Lights, l'une des indicas les plus pures disponibles. C'est l'une des variétés de cannabis les plus célèbres du monde entier.
La variété originelle Northern Lights a été produite par un homme appelé « The Indian » sur une île près de Seattle, Washington. En 1985, Northern Lights est arrivée entre les mains de Neville Schoenmaker, le propriétaire de « The Seed Bank. » Il a reçu la variété sous la forme de onze clones femelles étiquetés de Northern Lights #1 à Northern Lights #11, et Northern Lights #5 est censéeavoir été le meilleur spécimen.
Les plants originels de Northern Lights ont été décrits comme étant des plants afghans purs avec des caractéristiques Indica très distinctives : une couleur vert foncé et une forte stabilité, avec un ratio fleur à feuille élevé, un parfum de terre et de pin et une coloration violette pendant la floraison. Ils étaient aussi très résineux, avec un niveau de THC de 15 % ou plus. Il n'a pas fallu longtemps avant que plusieurs Northern Lights diffétrentes fassent leur apparition au catalogue de The Seed Bank. Comment ces nouvelles variétés ont exactement été crées reste peu clair, mais il semble que Neville ait utilisé les plants obtenus par l'intermédiaire de « The Indian » pour créer de nouveaux hybrides, en les croisant avec des plants mâles Afghani. La suggestion qui semble la meilleure est que Neville a créé ces nouvelles variétés en croisant et hybridant les plants de « The Indian » avec son stock d'alors.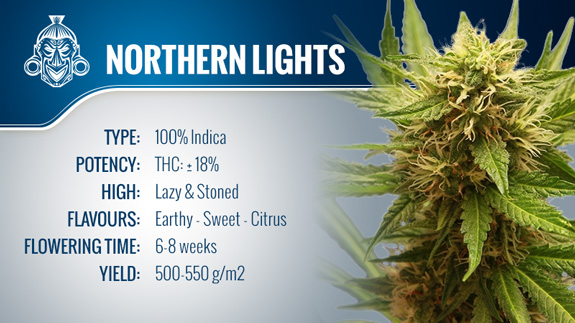 Les versions de Northern Lights disponibles actuellement les plus proches de l'original
La Northern Lights féminisée par Sensi Seeds est une pierre fondatrice de la culture du cannabis depuis trois décennies et elle exerce toujours une forte influence sur la communauté des cultivateurs, producteurs et fumeurs. C'est une Indica à 90 % qui a remporté Coupe après Coupe et qui a défini de nouveaux standards. Sensi Seeds a sélectionné les spécimens les plus puissants et en meilleure santé des trois variétés originelles de Northern Lights et ils ont passé des années à les croiser et les recroiser jusqu'à obtenir une plante avec un aspect parfaitement conforme au génotype Afghani. C'est une plante à la croissance rapide, robuste, trapue et compacte, avec des têtes chargées de résine et un arôme délicat de musc et de miel, saupoudré de touches terreuses et d'une pincée de génévrier.
NL5 x Afghan par Mr. Nice est basée sur la célèbre Northern Lights #5 et une variété Afghane et c'est une création de Neville et Shantibaba. C'est une plante compacte avec une floraison assez rapide de 7 à 9 semaines, une forte odeur et un produit fini avec une force de frappe Indica. En n'utilisant que des variétés locales afghanes, l'équipe de Mr. Nice a réussi à se rapprocher de très près de la Northern Lights d'origine : cette plante affiche une vigueur hybride, produit de hauts rendements et des tonnes de résine, possède un excellent ration fleur à calice et jouit d'une puissance haut de gamme. Elle est très appréciée des consommateurs à but médical en raison de ces effets physiques et de son action anti-douleur en particulier.
NL5 x Skunk est un autre chef-d'œuvre de la banque de semence Mr. Nice : c'est le résultat impressionnant de l'accouplement de deux des variétés les plus productives de ces trois dernières décennies. Les célèbres Northern Lights #5 et Skunk #1 sont toutes deux des succès pour ce qui est des rendements abondants et ce mélange de gènes à l'ancienne se devait de suivre leurs traces. Cette variété affiche une très forte vigueur hybride, avec une courte période de floraison d'environ 8 semaines, elle produit de hauts rendements de têtes chargées de résine et c'est un choix idéal pour les patients souffrant de douleurs musculaires ou lombaires.
Disponible chez :
comments powered by

Disqus